Heterogeneous Networked Robotics
Resource Allocation in Multi Agent Networks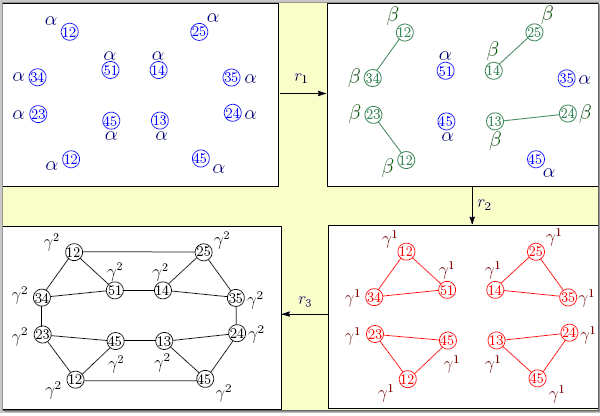 In multi agent systems, the interaction among nodes, provide solutions to complex group level tasks. The scope of service, such systems provide, depends on the distribution of nodes, that are equipped with various resources and facilities. How can we exploit the distribution of facilities among the agents, to increase the overall functional capability of the system? In this project, we use the graph theoretic notions to analyze the resource allocation schemes in multi agent networks for maximum benefit. The problem of assigning facilities, to the agents in the network, with a constraint that every agent gets all the facilities in its closed neighborhood, is directly related to the domination theory in graphs. We explore the benefit of assigning multiple facilities to agents, keeping the required constraints, on the overall functional capability of the system.
Characterizing Heterogeneity in Multi Agent Networks
Heterogeneity has emerged as an important aspect of multi-agent systems due to the increased flexibility afforded to such systems by the differing functionalities among the
agents. But, at a fundamental level, heterogeneity is not well characterized. In this paper we address the network topological aspects of heterogeneity by studying the structures of the networks
themselves. In particular, we provide a mathematical framework in which this can be formulated as a graph coloring problem and introduce a heterogeneous coloring as a characterization of the
underlying network topology of the heterogeneous multi-agent systems. This leads towards the better understanding of heterogeneity from both qualitative and quantitative view points.
Investigators
Publications
Waseem Abbas and Magnus B. Egerstedt. Hierarchical Assembly of Leader Asymmetric Single Leader Networks. IEEE American Control Conference , San Fransisco, Clifornia, June 2011.
Waseem Abbas and Magnus B. Egerstedt.Distribution of Agents in Heterogeneous multi agent systems. IEEE Conference on Decision and Control , Orlando, Florida, December 2011.
Waseem Abbas and Magnus B. Egerstedt. A Network Topology Based Characterization of Heterogeneity in Multi Agent Systems in Preparation,
Waseem Abbas, Chun-Hung Liu, Peter Whalen, Magnus B. Egerstedt and Robin Thomas. Graph Theoretic Analysis of Resource Allocation in Multi Agent Networks in Preparation,